[GRI 103-2]
Already on 25 February 2020, a Crisis Management Team was appointed in PZU and PZU Życie to ensure business continuity of the companies while observing the safety measures and restrictions resulting from, among others, the Council of Ministers' Regulation imposing specific restrictions, prohibitions and orders in connection with the state of epidemic. Also a crisis situation was declared in both companies on this day. PZU and PZU Życie implemented solutions and processes to minimize the risk of infection and spread of the coronavirus in the organization. Remote work was introduced already in March 2020. The necessary technical and organizational measures were ensured to enable as many employees as possible to work remotely or work in a rotation system. Insurance branches and agencies remained open, adapting to all legal limitations and sanitary restrictions associated with the spread of COVID-19. The sales, contract administration and claims handling processes were adapted in a similar manner to ensure business continuity and, at the same time, safe customer service. Some of the decisions made by the Crisis Management Team were forwarded as recommendations to PZU Group subsidiaries.
Activities aimed at counteracting the COVID-19 pandemic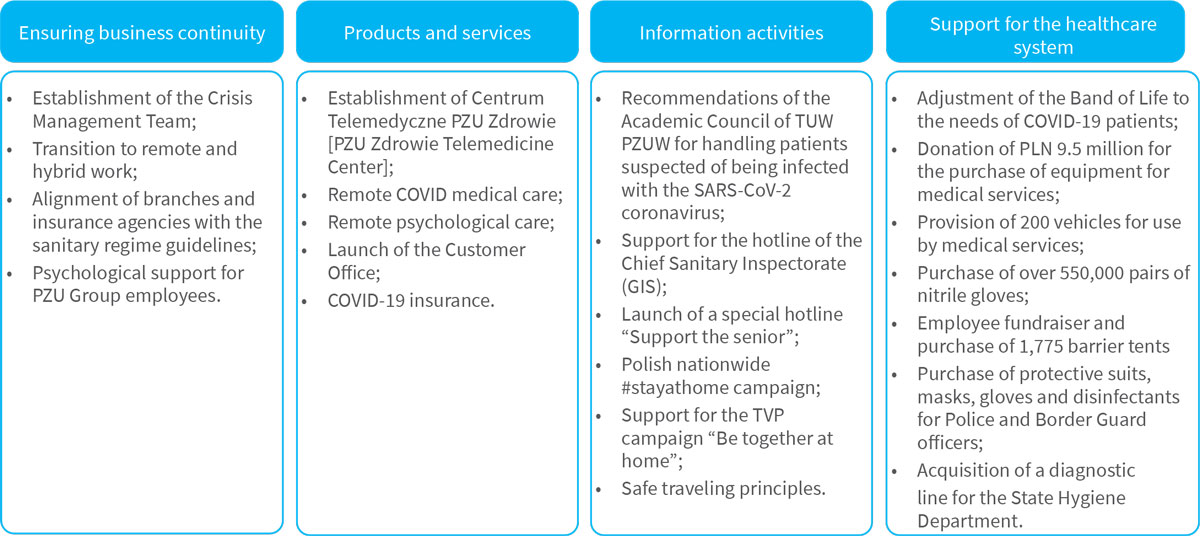 Customization of products and services
The activities of the PZU Group were directed towards adjustment of products and the manner of their functioning to the new reality so that service provision and satisfaction of obligations towards customers in connection with the products sold earlier was not interrupted and that customer service was safe also to the employees.
PZU Zdrowie is one of the leaders of private health care in Poland and provides care to nearly 3 million customers. The company established its own medical chain, which already covers 130 medical centers of PZU Zdrowie, including a medical imaging chain. Additionally, it cooperates with about 2,200 partner centers in more than 600 towns and cities in Poland. Due to the COVID-19 pandemic, PZU Zdrowie centers began providing remote medical consultations through the medical suppliers of PZU Zdrowie. The situation in Poland made also physicians in stationary facilities give remote consultations. Thus, PZU enabled patients to continue treatment at their own physicians, at the same time adjusting to the universally imposed restrictions.