The PZU Group's insurance and financial offer is the most extensive and most comprehensive offer on the Polish market. It consists of a broad array of insurance, pension and investment products addressed to all client segments. Group companies are active in health care, banking and additionally they render assistance services to retail clients and businesses through strategic partnerships.
The PZU Group Strategy is client-centered. Our mission is helping clients take care of their future. This means that our client relationships and our knowledge of our clients are becoming the Group's overriding value, while our chief product is our acumen in addressing client need to build a stable future.
PZU wants to do something different from the classical client relation model in which the only contact clients have with their insurer after buying a policy is when a claim occurs. PZU effectively helps clients solve their problems in many areas and during every stage of their life. PZU's philosophy of thinking about clients constitutes a departure from the classic model of an insurer's client relations rooted solely in sales and aftersales service. PZU wants to establish and maintain long-term relations with clients and deliver products that best fit their needs. Everything in the right place and at the right time, adequate to their requirements and financial capabilities This approach has defined the philosophy of PZU Group's operating model.
#newPZU – we are becoming a lifetime partner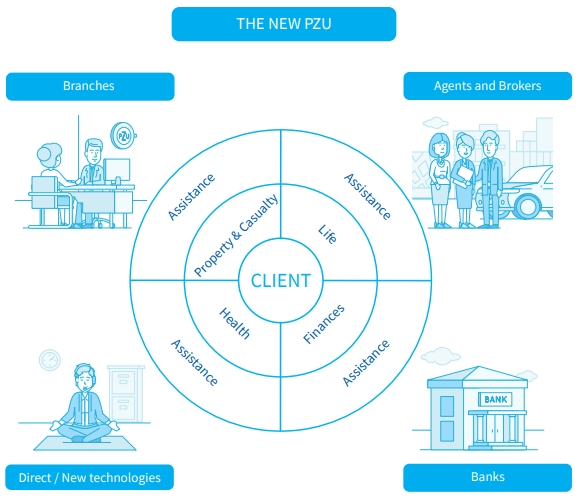 PZU Group's operating model brings together all of the Group's activities and integrates them in a client-focused manner: life insurance, non-life insurance, health insurance, investments, pensions, health care, banking and assistance services. This drives the gradual transformation of insurers from focusing primarily on valuation and transfer of risk toward being an advisory and service company (utilizing the technological know-how). We have created an operating model in which the core is client knowledge and the skill of building long-term relations. Thanks to that we will achieve high quality and large volume of interactions with the client. The transformation in the direction of an advisory and service company will makes it possible to care for the clients' future and satisfy their needs comprehensively when it comes to life, health and property insurance and savings and finance.
The PZU Group proposes abandoning "product centricity" in favor of an ecosystem whose overriding objective is to manage client relations skillfully. This means offering solutions in all available places. Accurately anticipating the future, understanding client needs and (inventing) creating ever better reasons for becoming part of their daily lives are the key assumptions of PZU's new strategy. These initiatives contribute to transforming the Group's operating model in the direction of an ecosystem spanning not just insurance, but also banking, health protection and payments.
We use new risk assessment methods and simplify processes, including client processers, thanks to:
utilizing our Big Data files better,
digitalizing processes,
using artificial intelligence and new technologies associated with the development of fintechs and insurtechs.
The beneficiaries of the change include the sales, claims handling and medical diagnostics areas.
We are a long-term partner for our clients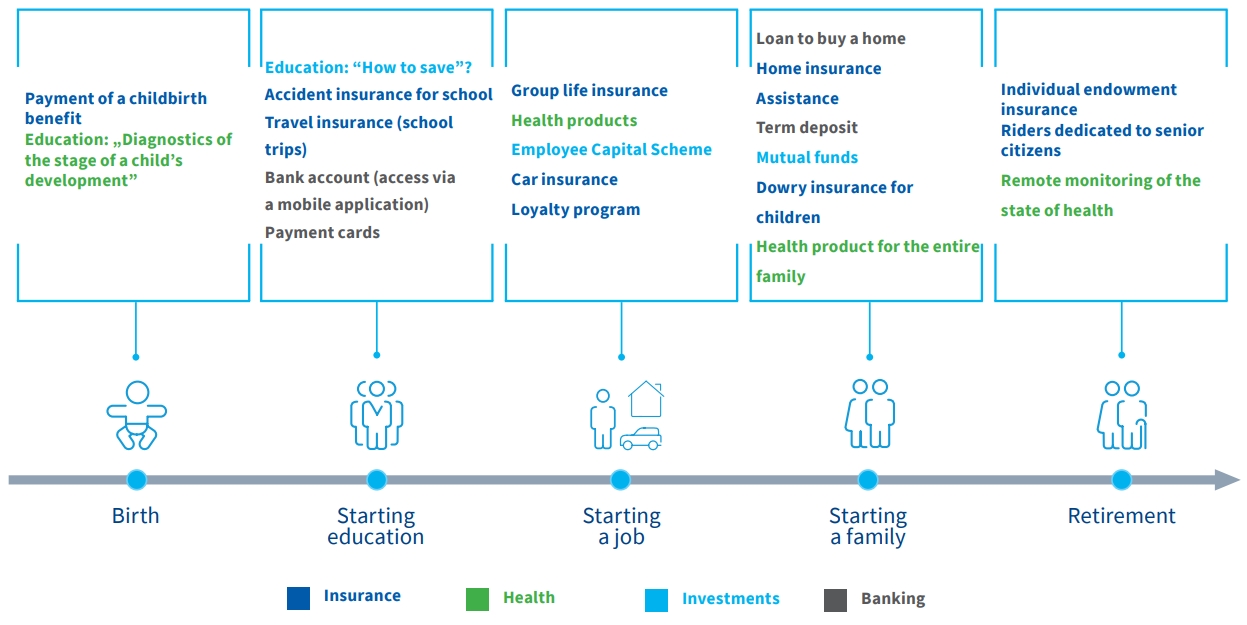 We help companies grow by offering them products supporting their growth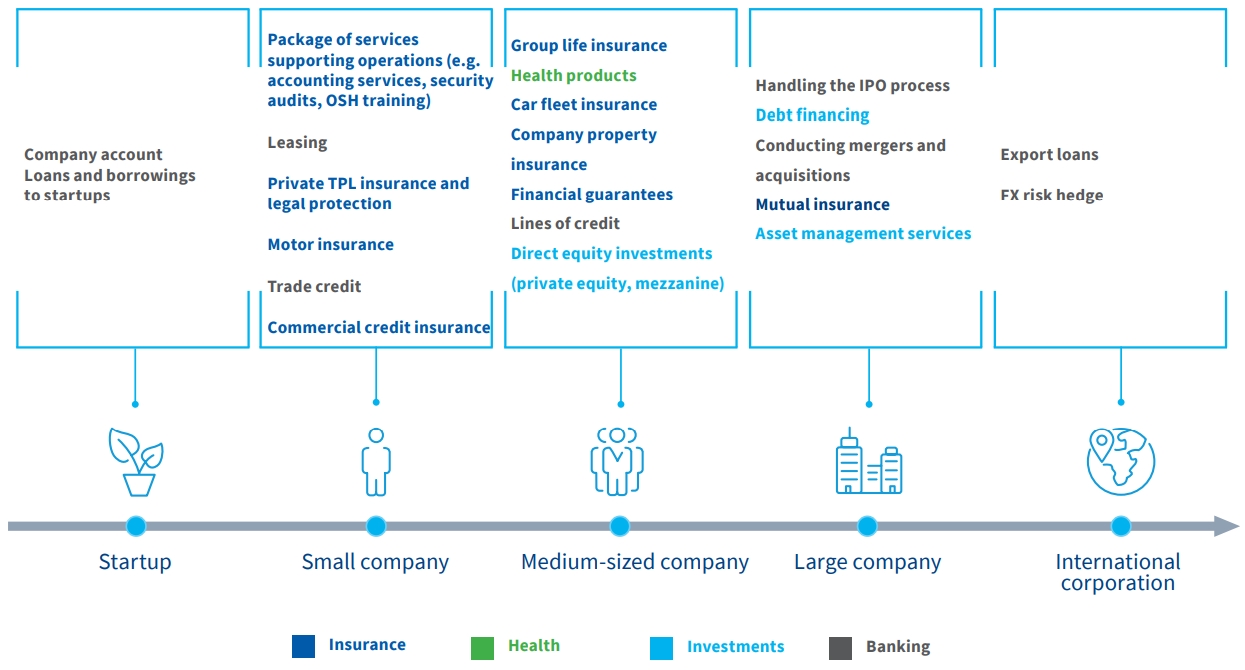 All services in one place
Our clients can handle numerous matters under the same roof. At the mojePZU portal they can:
buy a home or travel policy,
make an appointment with a physician,
collect a referral for examination or an e-prescription,
check their medical records,
invest savings,
report a claim.
Launching the mojePZU portal is not just the outcome of developing digitalization and mobility in PZU but also a way of radically modifying client interactions. This is a one-of-a-kind dashboard enabling clients to check their policy coverage at any time, manage their medical coverage and appointments and their investments.
Modern self-service offers a single location to access PZU Group's products and services and helps in the handling of numerous matters without the need to visit a branch or call a hotline. It is accessible from any location and at any time on personal computers and through the mobile app. At the end of 2020, the mojePZU portal was used by 1.6million users.
MojePZU is the most comprehensible platform available on the insurance, financial and health markets. It is continuously developed and upgraded with new functions. In 2020, we expanded it by, among others, the possibility of verifying the identity using mojeID (myID) and mObywatel (mCitizen), which significantly expedited the portal registration process. In addition, we made it possible to set up a portal account through an activation link. Since 2020 an account can be opened also by persons who report a claim from the perpetrator's TPL policy but are not PZU Group's clients. Other functionalities introduced in 2020 included, among others, proposals of automatic renewals for clients who have a PZU Auto TPL policy 15 days before the end of the insurance, handling of reimbursement of incurred costs in PZU Zdrowie.

MojePZU also includes initiatives aimed at improving safety. From November 2020 the users of the mojePZU mobile app receive information about the launch in Poland of the lost child search procedure under the international Child Alert system.
MojePZU comprises also the PZU Pomocni Club. It is a loyalty program through which clients obtain attractive discounts and rebates. The club gives them bonuses, for example for leading a healthy lifestyle.
In 2020, the mojePZU portal was awarded the "Simple Polish Language Certificate" by the Institute of Simple Polish at the University of Wrocław.