In 2020, fundamental valuations in global and local equity markets differed significantly from market valuations. The hard-to-estimate consequences of the COVID-19 pandemic prompted a significant group of investors to downsize their positions or exit the market completely. The situation normalized only in the last quarter of 2020, as more reports on the efficacy of vaccines were published.
In 2020, PZU stock recommendations were issued by 11 domestic and international financial institutions. In total, sell side analysts published 25 recommendations.
Statistics related to the recommendations published in 2020

Source: analysts' recommendations; company
In 2020, all recommendations for PZU's shares were positive or neutral. However, for most of the year, the actual price of the Company's stock was lower than the minimum price set by analysts. The difference between the target prices according to analysts' recommendations and the PZU share price was 34% on average. It was growing from the beginning of the year and reached 55.6% in October.
Analysts' expectations concerning PZU's share price in 2021 based on recommendations in effect at the end of December 2020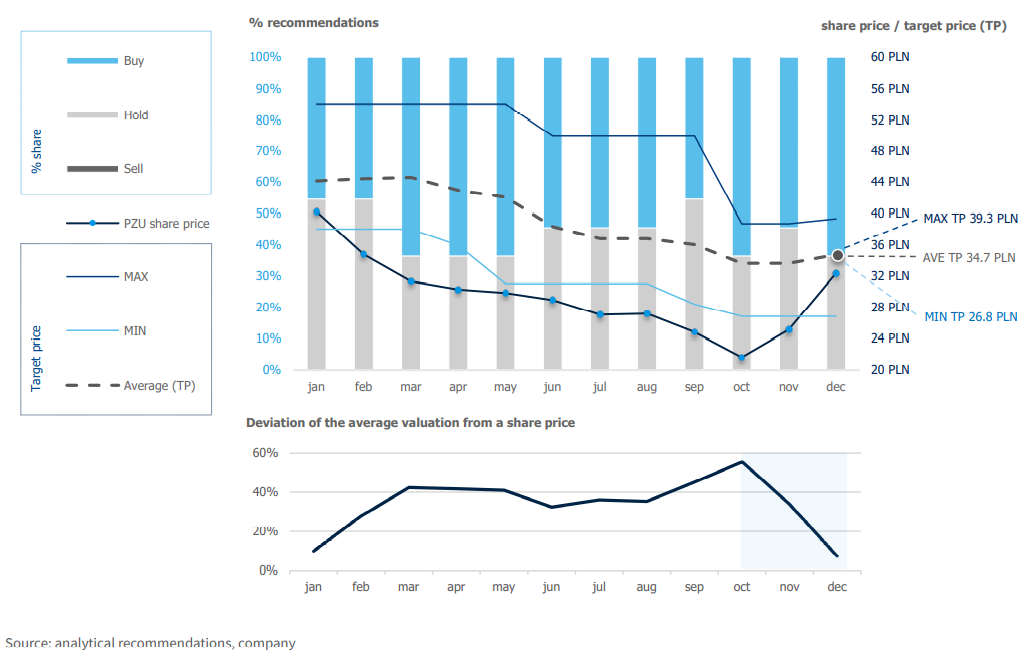 Source: analysts' recommendations; company


Statistics on target prices according to recommendations
31 December 2019
31 December 2020
Change
Price variance between the recommendations and the share price at the end of 2020 (PLN 32.36)
Highest target price
53.0
39.3
(25.8%)
21.5%
Average of the target prices
44.1
34.7
(21.3%)
7.2%
Median of the target prices
43.4
36.1
(20.0%)
11.6%
Lowest target price
38.0
26.8
(29.5%)
(17.2%)
Source: analysts' recommendations; company
In the middle of Q4 2020, in line with improved sentiments on global and local markets, the PZU share price rebounded strongly. At the end of the year, the difference between the recommendation prices and the actual share price shrank to just 7.2%, from 9.8% at the beginning of the year. During the last December session of 2020, the PZU share price stood at PLN 32.36. The minimum and maximum target prices for PZU's stock in analysts' forecasts active at the end of December 2020 (7 "buy" and 4 "hold" recommendations) were PLN 26.8 and PLN 39.3, respectively. The average target price was PLN 34.7.
Institutions issuing recommendations for PZU's stock (as at 31 December 2020)