Striving to achieve the greatest possible transparency of the PZU Group's business, the Management Board of PZU takes various investor relations activities aimed at ensuring equal access to information.
"Principles for PZU to Conduct its Information Policy for Capital Market Participants"
PZU's shareholder structure
According to current reports regarding the percentage of share capital and votes held by shareholders at the Shareholder Meeting, as at 31 December 2020, the State Treasury of the Republic of Poland held a 34.2% stake in the share capital and votes, and funds managed by Nationale-Nederlanden PTE held a 5.1% stake (Current Report No. 38/2020 of 30 December 2020). The remaining 60.7% stake was held by shareholders below the 5% threshold each.
According to a survey carried out among shareholders at the end of 2020, the shareholder structure in terms of stakes and geographies remained stable. The total stake held by domestic investors increased by 2.1 p.p. y/y, at the expense of foreign investors. This was likely partly related to the development of Employee Capital Schemes. The exposure of retail investors also increased, to 8.5%, or by 1.1 p.p. y/y.
Open-end pension funds and fund management companies in PZU's shareholder composition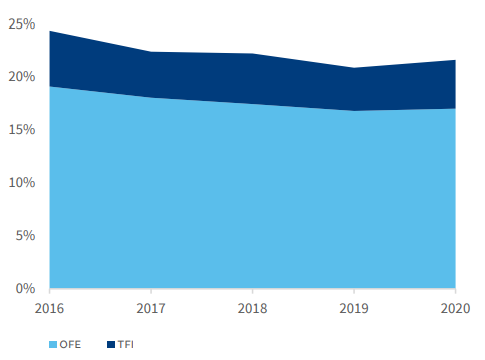 Source: Company
North American investors 2015-2020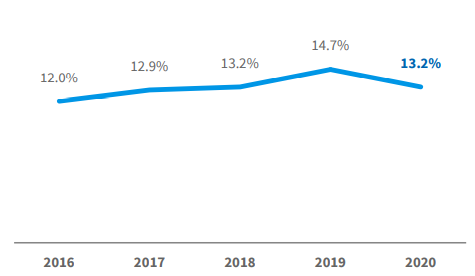 Source: Company
Retail investors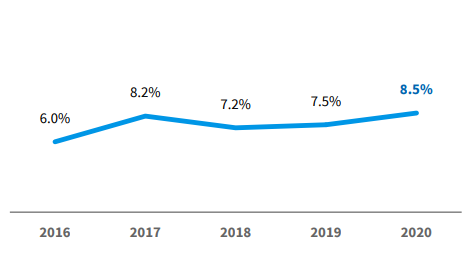 Source: Company
PZU shareholder structure - main investor groups

Source: Company
The share of open-end pension funds and mutual fund management companies remained at similar levels to those in the corresponding period of 2019: it stood at 16.9% and 4.7%, respectively.
In terms of geographic mix, the exposure of Asian investors increased by 1.3 p.p. to 5.9%. At the same time, the exposure of investors from North America and Europe (excluding Poland) declined by 1.5 p.p. y/y to 13.2% and 2 p.p. y/y to 14.2%, respectively.
Composition of PZU's shareholders by geography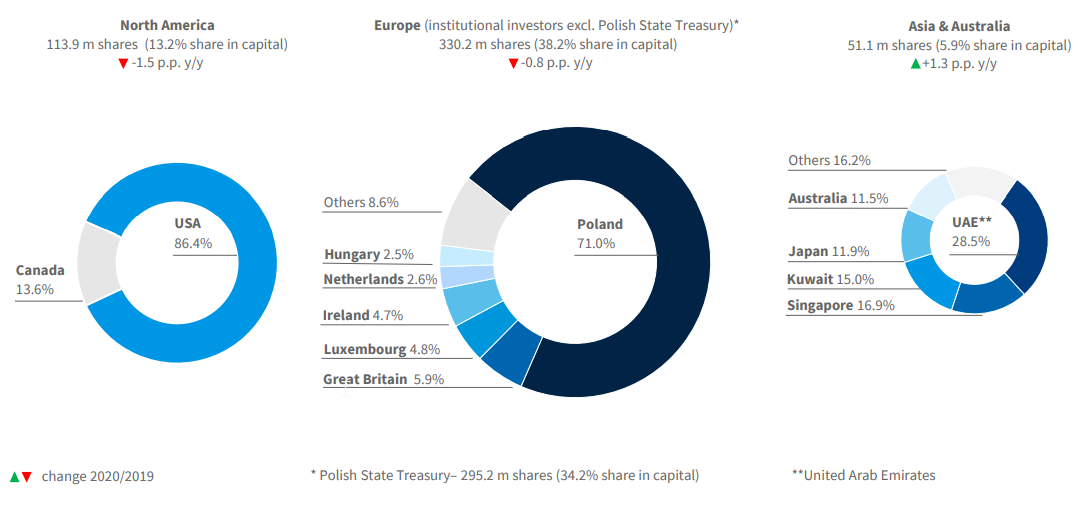 Interest of institutional investors vs. the PZU shareholding structure*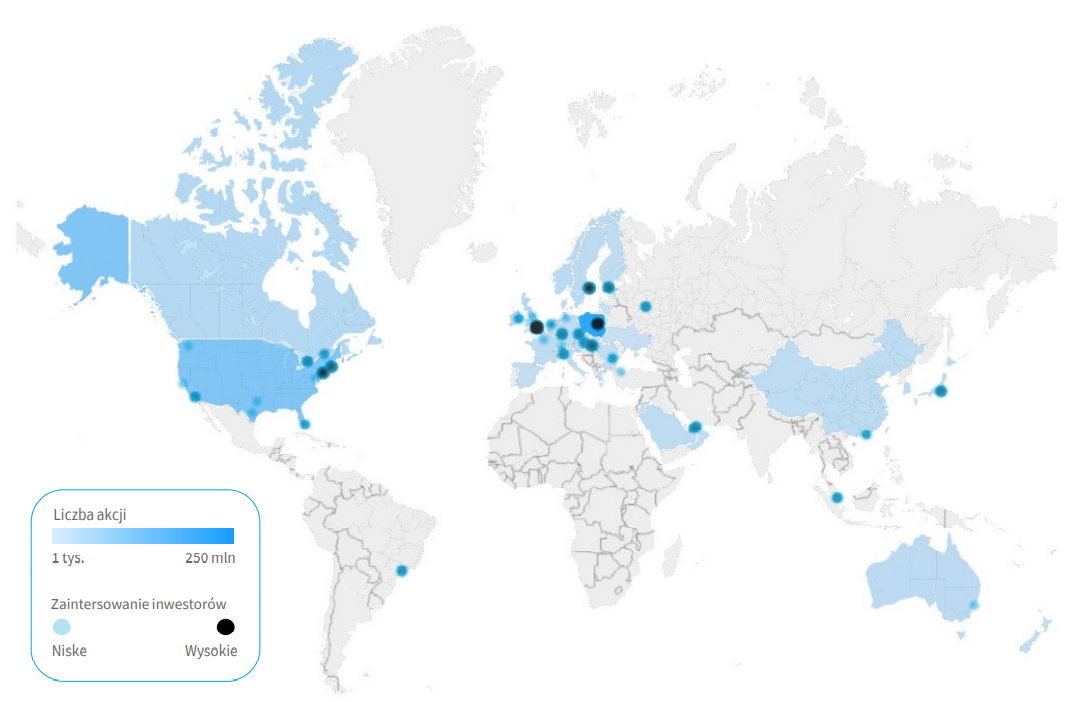 *Investors' interest was marked on the basis of the number of investor meetings in 2020 and the country of origin of the investors; shareholding structure (excluding the State Treasury) at the end of 2020
Source: PZU own study
Communication with capital market players using digital tools
In 2020, all corporate events held with capital market participants in mind were broadcast in the form of a webcast (with simultaneous translation into English). Quarterly financial performance was presented and discussed by the PZU Group's CFO (and other PZU Management Board Members) at online conferences, during which their participants had the opportunity to ask questions. Recordings of these meetings are available on PZU's website in the "Investor relations" section at https://www.pzu.pl/en/investor-relations/downloads.
The most important events, achievements and plans were presented once again in the form of an online Annual Report at raportroczny2019.pzu.pl/en. Users have been provided with tools enabling a multi-directional analysis of corporate and macroeconomic events as well as financial results. The report includes interactive infographics, animations and video clips, which offer a succinct presentation of the PZU Group's activity in 2019.
12 MARCH
Presentation of financial results for 2019

26 MAY
Ordinary Shareholder Meeting

29 MAY
Presentation of financial results for Q1 2020

10 SEPTEMBER
Presentation of financial results for H1 2020

19 NOVEMBER
Presentation of financial results after Q3 2020
Activities targeting institutional investors
The COVID-19 pandemic has affected the way in which we communicate with institutional investors in particular. From February to the end of 2020, all meetings with such investors were held remotely via audiovisual messaging applications.
PZU's representatives participated in 14 conferences held online (except for three in January) by global investment banks and brokerage houses in Poland (in 2019, 16 such conferences were held) and in 23 virtual events (in 2019, 40 such events were held). They gathered a total of 224 managers and analysts representing mutual funds, pension funds and other asset management firms.
Activities addressed to retail investors
In the interests of retail investors, PZU provided them in 2020 with reliable and up-to-date information on the Company's business and financial results as well as on the insurance and banking industries.
Such information was provided in the form of online reports, newsletters, factsheets and other studies distributed by e-mail, and during direct meetings with investors, which enabled them to ask questions to PZU's representatives. The latter included in particular:
24th WallStreet 24 Conference, the largest meeting of retail investors in Poland held by the Polish Association of Individual Investors. Due to the pandemic, it was held online for the first time ever. The participants of the event had the opportunity to talk via an online chat application with the PZU Management Board Member in charge of the Finance Division and the Director for Investor Relations. PZU participated in the WallStreet 24 conference for the tenth time;
chats with retail investors, organized after each publication of quarterly financial results, hosted by the Member of the PZU Management Board in charge of the Finance Division.
Without interruption since 2012, PZU has also been participating in a program conducted by the Polish Association of Individual Investors called "10 of 10: Communicate Effectively". Its purpose is to promulgate high communication standards between public companies and retail investors.
Prizes and distinctions for IR activities
PZU's investor relations activities are highly regarded by investors, analysts and the media. This was confirmed by the awards and distinctions awarded in 2020, including in the Best Annual Report 2019 contest organized by the Institute of Accounting and Taxes (Instytut Rachunkowości i Podatków):
special award "The Best of the Best" (for the second time);
special prize for the best on-line annual report in the Banks and Financial Institutions category;
special prize for the best integrated annual report in the Banks and Financial Institutions category.
IR strategy for 2021
The main objectives of PZU's investor relations function in 2021 (continuation):
strengthen good relations between the PZU Management Board and the community of investors, both in the local market and in the global market;
ensure understanding and approval for PZU's new strategy among investors and analysts;
secure a deep and broad market for PZU's shares by continuing to build a diversified base (in terms of geography, numbers and profile) of an appropriate number of well-informed investors familiar with the company;
ensure a reliable valuation for PZU's stock by providing sellside analysts of investment banks and brokerage houses with high quality information about PZU's operations, industry trends, drivers of financial performance and feedback after analysis of their recommendations;
ensure sell-side research coverage, in particular among international investment banks;
provide the PZU Management Board with regular feedback concerning the perception of PZU among capital market players and broad knowledge of current and potential shareholders of the company;
monitor investor sentiment towards PZU shares and changes in the shareholder structure in order to select the most adequate investor relations measures and tools;
develop digital tools to address investor needs better, including by implementing new solutions in the online annual report and enhancing the functionality of the investor relations service.
The main objectives of PZU's investor relations function in 2021 (new initiatives):
increase the scope and frequency of remote meetings with investors;
extend the scope of non-financial reporting with elements related to climate change;
increase the degree of integration in the online report;
launch a pilot loyalty program for retail investors.